There is a lot of happy dancing going on around this place tonight. One of our all-time favorite TV series is back! Longmire's long awaited Season 4 is available TODAY on Netflix.
Hubby and I did a marathon viewing of the first 3 episodes last year when we finally got internet service that would stream Netflix. We were hooked on the series after the very first episode, only to find that it had been cancelled.  What the heck is wrong with the idiots at A & E? (This isn't the only series we love that they have cancelled..)


Anyways, Netflix to the rescue! They were smart enough to see the absolute obsessed cult following this show has and did some negotiating to order the 4th season. Whoo hoo, yay Netflix! So today is the day, we are finally getting to have another fix of one our favorite cowboy lawmen and his trusty sidekicks. We are re-watching the last episode of season 3 first to reacquaint ourselves with the happenings and then we're good to go. It's going to be a late night here. Pop that popcorn hubby.
I hope everyone enjoyed this Labor Day weekend. We had a busy Saturday and Sunday, but today was all about the relaxation.
Mr. MoonCat and I both belong to a fantasy football league. I've been a team owner since 2005 and this will be the hubby's third year. The league is mostly made up of some of my dearest friends from kindergarten to now! We've always stayed close and connected and look forward to our annual draft party on Labor Day weekend and the Super Bowl party in the winter. It's a fun and very competitive way to keep our lifelong relationships strong.
The party is usually a weekend long event with a "pre-party" on Friday night, a golf tournament on Saturday and the actual draft/party on Sunday. It is always an extremely fun weekend, but the older I get, the more tired I am come Monday.
I love these guys, but it's probably a good thing we DO only plan these things twice a year!
(That's Mr MoonCat 3rd from the left)
So today, I rested! I spent a large part of my day reading and catching up on my pile of "To Be Read" books. I'm still doing reviews over at
One Book Shy of a Full Shelf
as well as doing some sensible saving at
Centsable Couponing
. I'm busy, but it's stuff I love.
How was your weekend?
~~~~~
I'm sitting here tonight going over our monthly and annual budgets. We've been doing pretty good at saving some money wherever we can in our goal to move to another state next year. I've worked at slashing our spending and am surprised at the savings I've found in one important area – pet food.
By pets, I'm not including the poultry, horses or cattle. Strictly dogs and cats – 3 pooches and 7 purrers. Even though we are now feeding a higher priced feed to both cats and dogs, we have actually been saving quite a bit of money. It all comes down to a better quality feed and the animals eating/needing less to be healthier and more satisfied.
Even though I am fairly well versed in animal nutrition, I used to be bad about watching sales and using coupons for my cat and dog food. Whatever seemed to be decent pet food for a decent price AND had coupons available prompted me to try to save a buck. Unfortunately, my critters paid for it with poor coats and up/down weight issues. So I went to the other extreme and bought really pricey, overly hyped feeds. I think probably more to assuage my guilt than anything else. This also didn't really benefit my animals or my pocketbook.
Flash forward to last winter when I went to work part-time for our new Tractor Supply. I chatted with a few of the nutritionists and feed reps to see what they were feeding their own animals. I found it very interesting that most of them were using the TSC brand "4 Health" pet food. It's priced pretty much in the middle of the scale and the ingredients seem to be exceptionally good. So I gradually switched my crews over to the age or issue-appropriate formulas and I am thrilled!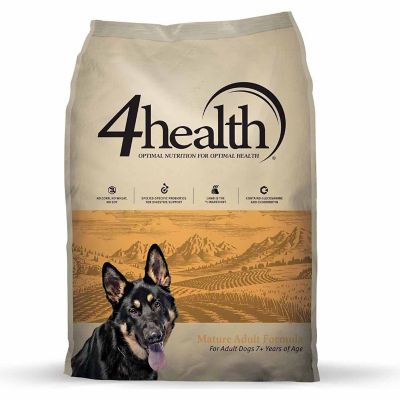 Both cats and dogs have all done very well with these feeds. Their coats are thick and glossy, they all maintain healthy weights, fewer hairballs for the cats and a large bonus overall – less poop. That may seem funny or trivial to some, but when you have a 125 pound hound, you want much smaller landmines and way fewer of them. Since there are so many less fillers and more of the good nutrients, the animals utilize the feed better and need less to be happily full.
So I'm curious what kind of pet food do you feed your furballs? Anyone else use 4 Health?
This time of year Mr. Mooncat and I don't really like to eat a heavy dinner. (This also translates to "I" don't like to spend a lot of time in the kitchen when we're dealing with temperatures in the high 90s, low 100s!) We tend to either snack or just have an appetizer instead of an actual main course. This makes healthy avocados turned into guacamole the perfect fit.


My favorite guacamole recipe is a bit of a hodgepodge of several I've come across over the years. I play around with it quite a bit, but this one seems to be the hubby's favorite, so we stick to it – the fact that it's easy helps.
image courtesy of Knorr, Inc. 
Makes 4-6 servings.
4 Large Avocados
3 Roma Tomatoes, diced
1 Red Onion, medium – diced
1 Fresh Lime, juiced (lemon can be substituted if desired)
2 TBsp chopped Cilantro, fresh preferred
In a large bowl, mash avocados and lime juice (& optional salt). Add in the tomatoes, onion, garlic and cilantro. Finally stir in the pepper and (optional olive oil.)


I like to cover the guacamole and let it chill in the refrigerator for 2-3 hours before serving. But it can be served right away if desired. I think the flavors tend to be better blended if you wait though.
It's Alive….
After a way too long hiatus, I'm back. In a way, a lot has changed and nothing has changed – if that makes sense. It will take me some time and many posts to bring you up to snuff. I appreciate you all still being here.
I am looking forward to getting back into the swing of things and sharing our little world again with you lovely people. I've missed you!
Here's a clue on what I'm still doing….
In the case of The Hubby vs.THE CHICKENS, the defense offers this photographic evidence and then the defense rests:
She states:
"My husband is very supportive of my chicken obsession.  He helps me out and encourages me in growing our endeavor.  But, he tells the guys that he is just indulging his crazy wife.  He says that he puts up with the feathered fiends to appease me and doesn't have anything to do with any of the birds.  I don't understand why he doesn't want anyone to know that he buys them treats. He enjoys being out with them almost as much as I do and has his favorites in the flock."
The defense rests..
Nature's Incubator
I initially started raising Giant Cochins with the thought they would be broodies for my Blue Andalusian chicks.  Andalusians just have no interest in taking care of their own kids.  They produce a bajillion of them, then they are just "dead-beat" parents and don't want to take the time to hatch or raise them!  Spring fever has hit hard and they are popping out eggs like crazy in that pen. I was in need of some help to get the blue babies hatched.
So Cochins to the rescue…or NOT.  I waited and waited for one of my beautiful blue Cochin gals to go broody.  You would think out of 9 hens, one would cooperate?  Nope. Nada.  So I took the plunge and ordered an incubator off of eBay.  Guess what?  The pretty little lady pictured above and below decided she wants to raise some chicks!  The very day after I spent a small fortune on an "alternative" way to get those babies hatched.
Goofy bird…
"We are NOT amused"
I'm sure the title of this post had you thinking of something else.  Never fear, we aren't pregnant and we aren't blue at all around here, but our new babies are!
Welcome to our first hatch of the year (from Monday).  24 eggs went into the incubator and exactly 21 days later, these pretty babies made their way into the big wide world outside their shells.  I'm especially happy with these 17 hatchlings because they are the first chicks from my young breeding birds.
In the first week of incubation, 4 eggs were found to not be fertile while 1 started and died.  The other 19 eggs went the full three weeks.  2 eggs didn't hatch for unknown reasons, but 17 did and 17 out of 24 is still very good.  The fertility and hatch rate should both improve as the breeders get a little older ~ and more experienced 🙂
The fuzzier chicks are Giant Blue Cochins with the others being my Blue Andalusians.  As you can see in the photo, there are some differently colored birds in the brooder.  Most birds that carry the common blue or "Andalusian" gene have the possibility of producing Blue, Black or Splash chicks. I am pleased with the group of mostly blue babies:  10 blue (5 Cochins/5 Andalusians), 5 black (3 Cochins/2 Andalusians) and 2 Splash Cochins.  Splash chicks will be a whitish based bird with blue or black "splashes" of color.  More about the blue genes later.
More photos and blathering on about my birds to come soon!
Well, it's been so long since I've posted that I pretty much had to learn how to do it all over again!  Life has kept us very busy here at MoonCat Farms since I last checked in many moons ago.  There's too much to cover in one post so I'll just start fresh with one of my favorite and frankly, most time-consuming interests. My chooks…
Mr. MoonCat's parents call them their "grands".  When they come up for a visit, they enjoy helping me with the little feathered fiends.  In fact we're looking forward to a visit next month when I will be enlisting their help in vaccinating the flock and accomplishing a few other chores that seem to need a few willing extra hands.  Plus, we just have fun playing with the birds and spending time outside.  The chickens reward their "grands" by sending them back to Arizona with a bunch of beautiful farm fresh eggs!
Rudy Roo – Barred Plymouth Rock
Rudy Roo is called a Barred Plymouth Rock or just a Barred Rock.  He runs with my laying flock of mostly Rhode Island Red hens and a few girls of questionable parentage.  He's a very gentle bird that takes great care of his girls and is pleasant for us to be around.  (His neck shouldn't look all fuzzy like that, he's been sticking his head through the fence to reach the rosebush and messed up his feathers. I will be putting up more chicken wire soon, as Mr. MoonCat accused me of trying to strangle poor Rudy!)


"I'll Be Back…"   Iowa Blue hen
This little gal giving us all the stink-eye is an Iowa Blue hen.  She's a smallish bird that lays a small creamy colored egg.  They are a personable breed that is enjoyable to be around and as you can tell by the up close and personal photo, very nosy!  (BTW, they aren't blue..just those Iowa people coming up with a name for their birds… 🙂
Boo – Blue Andalusian rooster

This pretty guy is one of my favorite boys here at MoonCat Farms.  He is Boo, a Blue Andalusian rooster which comes from Andalusia, Spain.  Blue Andalusians actually show up in three color variations:  Blue, Black and Splash.  They are all the same bird, they just carry the blue gene differently.  I will do a post on each of the breeds I am raising and go a little more into the colors then.
The fluffy butts in the photo above belong to my lovely Giant Blue Cochins.  That is one of the two roosters with his head up while the others were pigging out on a pumpkin. They lay medium-sized brown eggs, but not in large quantities.  In spite of this and in all honesty, because they are so darn cute, they came to MoonCat Farms with a purpose – to sit on and hatch the eggs of the Blue Andalusians.  Andalusians are notorious for NOT sitting on their own eggs while Cochins are notorious for being broody and wanting to spend their time raising chicks – instead of laying eggs!  It's a perfect match :)If you haven't noticed yet, I have a bit of a theme with the BLUE chickens.  This has become quite the endeavor and I am truly hooked on my birds.  I look forward to sharing more about this journey with you.