I hope everyone enjoyed this Labor Day weekend. We had a busy Saturday and Sunday, but today was all about the relaxation.
Mr. MoonCat and I both belong to a fantasy football league. I've been a team owner since 2005 and this will be the hubby's third year. The league is mostly made up of some of my dearest friends from kindergarten to now! We've always stayed close and connected and look forward to our annual draft party on Labor Day weekend and the Super Bowl party in the winter. It's a fun and very competitive way to keep our lifelong relationships strong.
The party is usually a weekend long event with a "pre-party" on Friday night, a golf tournament on Saturday and the actual draft/party on Sunday. It is always an extremely fun weekend, but the older I get, the more tired I am come Monday.
I love these guys, but it's probably a good thing we DO only plan these things twice a year!
(That's Mr MoonCat 3rd from the left)
So today, I rested! I spent a large part of my day reading and catching up on my pile of "To Be Read" books. I'm still doing reviews over at
One Book Shy of a Full Shelf
as well as doing some sensible saving at
Centsable Couponing
. I'm busy, but it's stuff I love.
How was your weekend?
~~~~~
I'm sitting here tonight going over our monthly and annual budgets. We've been doing pretty good at saving some money wherever we can in our goal to move to another state next year. I've worked at slashing our spending and am surprised at the savings I've found in one important area – pet food.
By pets, I'm not including the poultry, horses or cattle. Strictly dogs and cats – 3 pooches and 7 purrers. Even though we are now feeding a higher priced feed to both cats and dogs, we have actually been saving quite a bit of money. It all comes down to a better quality feed and the animals eating/needing less to be healthier and more satisfied.
Even though I am fairly well versed in animal nutrition, I used to be bad about watching sales and using coupons for my cat and dog food. Whatever seemed to be decent pet food for a decent price AND had coupons available prompted me to try to save a buck. Unfortunately, my critters paid for it with poor coats and up/down weight issues. So I went to the other extreme and bought really pricey, overly hyped feeds. I think probably more to assuage my guilt than anything else. This also didn't really benefit my animals or my pocketbook.
Flash forward to last winter when I went to work part-time for our new Tractor Supply. I chatted with a few of the nutritionists and feed reps to see what they were feeding their own animals. I found it very interesting that most of them were using the TSC brand "4 Health" pet food. It's priced pretty much in the middle of the scale and the ingredients seem to be exceptionally good. So I gradually switched my crews over to the age or issue-appropriate formulas and I am thrilled!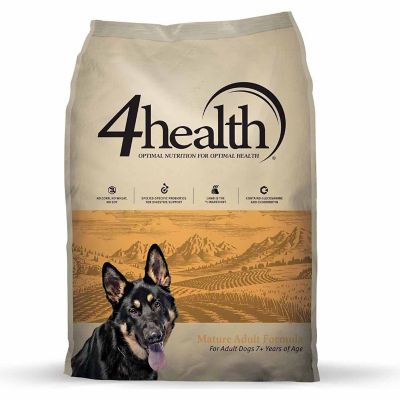 Both cats and dogs have all done very well with these feeds. Their coats are thick and glossy, they all maintain healthy weights, fewer hairballs for the cats and a large bonus overall – less poop. That may seem funny or trivial to some, but when you have a 125 pound hound, you want much smaller landmines and way fewer of them. Since there are so many less fillers and more of the good nutrients, the animals utilize the feed better and need less to be happily full.
So I'm curious what kind of pet food do you feed your furballs? Anyone else use 4 Health?
This time of year Mr. Mooncat and I don't really like to eat a heavy dinner. (This also translates to "I" don't like to spend a lot of time in the kitchen when we're dealing with temperatures in the high 90s, low 100s!) We tend to either snack or just have an appetizer instead of an actual main course. This makes healthy avocados turned into guacamole the perfect fit.


My favorite guacamole recipe is a bit of a hodgepodge of several I've come across over the years. I play around with it quite a bit, but this one seems to be the hubby's favorite, so we stick to it – the fact that it's easy helps.
image courtesy of Knorr, Inc. 
Makes 4-6 servings.
4 Large Avocados
3 Roma Tomatoes, diced
1 Red Onion, medium – diced
1 Fresh Lime, juiced (lemon can be substituted if desired)
2 TBsp chopped Cilantro, fresh preferred
In a large bowl, mash avocados and lime juice (& optional salt). Add in the tomatoes, onion, garlic and cilantro. Finally stir in the pepper and (optional olive oil.)


I like to cover the guacamole and let it chill in the refrigerator for 2-3 hours before serving. But it can be served right away if desired. I think the flavors tend to be better blended if you wait though.
It's Alive….and clucking.
After a way too long hiatus, I'm back. In a way, a lot has changed and nothing has changed – if that makes sense. It will take me some time and many posts to bring you up to snuff. I appreciate you all still being here.
I am looking forward to getting back into the swing of things and sharing our little world again with you lovely people. I've missed you!
Here's a clue on what I'm still doing….it does have some clucking involved too…
If you'd like to learn more about Guineas, check out this
great book
.
Nature's Incubator
I initially started raising Giant Cochins with the thought they would be broodies for my Blue Andalusian chicks.  Andalusians just have no interest in taking care of their own kids.  They produce a bajillion of them, then they are just "dead-beat" parents and don't want to take the time to hatch or raise them!  Spring fever has hit hard and they are popping out eggs like crazy in that pen. I was in need of some help to get the blue babies hatched.
So Cochins to the rescue…or NOT.  I waited and waited for one of my beautiful blue Cochin gals to go broody.  You would think out of 9 hens, one would cooperate?  Nope. Nada.  So I took the plunge and ordered an incubator off of eBay.  Guess what?  The pretty little lady pictured above and below decided she wants to raise some chicks!  The very day after I spent a small fortune on an "alternative" way to get those babies hatched.
Goofy bird…
"We are NOT amused"