One of our ultimate favorite recipes around here is for Scottish or Scotch Eggs. Although I've always loved hard boiled eggs, I never knew about this lovely treat until I met the hubby. He was a big fan and taught me how to make them. I've tweaked the original recipe he used, mostly in order to make it a bit healthier, but the taste is still amazing.  We like to make them ahead and take them on picnics or trips as they keep and travel well. Plus they are quite filling. I'm sure they will become a favorite in your household as well.
Scotch Eggs
12 hardboiled eggs
2# ground sausage
1 cup finely chopped onion
1/2 cup flour
4 eggs, beaten
1 1/2 cups breadcrumbs
Preheat oven to 400 degrees Fahrenheit and line a baking sheet with parchment paper.
Peel the hard boiled eggs and set aside.
Mix the sausage and onions together well. Divide into twelve equal portions.
Roll each egg in the flour and then wrap with sausage mixture.
Dip the wrapped eggs into the beaten eggs and then roll in bread crumbs.
Place each egg on the baking sheet and place in oven.
Bake for 20-30 minutes until the breadcrumbs are browned and the sausage is cooked thoroughly.
The traditional method of cooking these is to fry them. I decided to bake them in order to cut down on the grease as the sausage provides enough on its own. You can also further spice them up with sage, garlic or other add-ins to make it your own. Enjoy!
If you've never been introduced to the Dexter cattle breed, you're in for a treat. They are considered a miniature breed and are about half the size of most large breed cattle. Along with being a multi-purpose breed, they pack a very big punch of personality into their small frames! We've begun a love affair with these little bovines that I'm sure is going to be a lifelong relationship.
Between their friendly personalities and their darling appearance, these little Dexter cattle have quickly charmed everyone who's met them. My hubby and father (the dyed-in-the wool, old-time crotchety lifelong cowboy/cattleman) are both completely wrapped around the little bovine hooves. The little mooches beg for backscratches and treats on a daily basis. And yes, they do seem to always get them. They seem to know how to play us all against each other as one afternoon they managed to trick all three of us into giving them treats within a two hour period. We really are a bunch of suckers when it comes to our animals.
Fanta is a lovely, polled red heifer of the Dexter cattle breed. She was raised with much love and affection by Andrew and his family at Long Dream Farm before she came to live here with us last fall. She is one of the sweetest cows I've ever been around and you can't help yourself from stopping to talk to her and give her some attention. I just adore her as she will come running when she hears one of our voices.  She is quite pregnant at this time and will be having a calf in the next few months. We're really excited to meet her little mini-moo when the time comes.
Being raised on a working ranch, I grew up around thousands of cattle over the years and became fond of many of them. The bulls were usually my favorites and I actually dreamed at one time of being a stock contractor for the rodeos with my own string of bucking bulls.  Of course, at that time, it wasn't all that common for a woman to be a herd boss! Plus I didn't like the idea of someone actually taking a spur to one of my pets – no one would take as good of care of my animals as I would. So I moved to other pursuits.
Jump to now. I've become enamoured all over again with another bull. A pint-size bull – with a big 10-gallon personality and sometimes a little attitude. Igor is our little big man now at the ranch. He is becoming almost as big of a pet as his pal Fanta, but not quite.  As is usual with a bull, especially a youngster, the testosterone kicks in and he thinks he has to be the boss – and it IS almost Spring! I think his feelings get hurt when I remind him who really does rule the roost – and who feeds and brushes him. He is a charmer though as he belts out a bellow when he sees me walking to the pasture. He just doesn't come waddling up to the gate as fast as Fanta. He has to show his independence before he kicks up in the air and comes bucking up the lane with his tail up. He's being trained to lead well at halter and I'm hoping to add a few other skills to his repertoire. He's a smart little cookie and we're working towards a gentlemanly demeanor to go with his rugged good looks. I'm in love.
I will be writing A LOT more about the Dexter cattle breed and my two little ambassadors as well as adding many more photos.  They are a real joy to be around and have really added another layer of fun to our days. I'm looking forward to sharing their antics and escapades with all of you.
If you are interested in learning more about the Dexter cattle breed and finding out what is available, please visit the website of  Long Dream Farm. It is an absolutely beautiful place where the animals are all treated with much care and respect by a truly lovely family. We are grateful to them for allowing Fanta and Igor to become a part of our own family and our daily lives.
Hello fellow meanderers who have blown in on the winds of change… welcome to our old friends from MoonCat Farms and to those of you new to us!
I've really missed all of you at our MoonCat Farms Meanderings blog. It hasn't been the same talking about our daily lives as well as sharing the things I find in my own wanderings, it's been a bit lonely. Because of this I've decided to rekindle the fire and start up yet again, but in a new place. I'm looking forward to adding many new friends as well as we move forward with this new venture.
Our new home is here at Red Barn Blue Skies. It will be more of an overall lifestyle and family site instead of just about the farm, although all of the previous posts and conversations are now here as well. The farm has its own actual website now for the heritage animals we're raising at Forty Five Farm. It got to be a bit confusing for our livestock customers with the two farm names so we went with the legal one and are dropping the Mooncat Farms name.
There will still be quite a bit of crossover with the animals here as they do comprise a major part of our lives, but for the most part this site will be – a little bit about a lot of things and a lot about the little things that make our life wonderful.  I'm continuing to contribute in several other places as well:  book reviews at One Book Shy of a Full Shelf and tidbits about saving money at Centsable Couponing as well as my newest Halloweenistic. You can see I like to dabble and divulge in several areas and enjoy sharing them with others.
So, with a little change to the name and format, MoonCat Farms Meanderings will now be Red Barn Blue Skies. Bear with us as we make the change and we'll be up and running right away.
Welcome to the next chapter as the winds of change blow through. I hope you'll enjoy your time with us and join in the conversations.
This Saturday, September 26th is National Public Lands Day and is the day to visit your local National Park – for FREE! Go HERE to see which parks are participating with free National Park admission and then go out on Saturday and celebrate our great Nation and Nature.
*The next date (and final one for 2015) is November 11th, Veterans Day.
Yosemite photos
courtesy of http://www.pachd.com/
**article on free National Park admission was first posted  at Centsable Couponing
Today's offering for my Extra Eggs Recipes feature is a new favorite – Chile Rellano Casserole.
As many of you know, I have chickens. LOTS of chickens. One of the bonuses and sometimes headaches, that goes along with this is LOTS and LOTS of eggs! I have been developing quite the collection of egg-heavy recipes to help use up these lovely little presents I'm gifted with daily. This is one of my (and Mr MoonCat's) favorites. We pretty much eat this once a week when the girls are laying in abundance. Enjoy.
Chile
Rellano Casserole
1/2
pound hamburger
1/2
pound ground sausage
1
cup chopped onion
3
cloves garlic, minced
3
cups shredded cheddar cheese
6-8 large eggs
1/4
cup all-purpose flour
1
cup milk
½
tsp Salt
½
tsp Pepper
Preheat
oven to 350 degrees.
In a large skillet cook the sausage &
hamburger together. Once browned, add the onion and garlic in with
the meat. Once onion is soft, drain the fat from the skillet and mix
in salt, pepper and cumin.
Line a deep 13″x9″ baking dish with
chilies split in half, save the remaining chiles for later; top with
2 cups cheese. Layer in the meat and top with remaining chiles,
chopped up; set aside.
Beat eggs with flour until smooth. Blend in
milk. Pour mixture over meat in the casserole dish.
Bake uncovered
for about 45 minutes until center is done. Sprinkle remaining 1 cup
cheese on top.
Let stand 10 minutes before serving. Makes
6-8 servings.
A side note about the Chile Rellano Casserole – it freezes very well. I now make two at a time so I have some to use for freezer dinners.
There is a lot of happy dancing going on around this place tonight. One of our all-time favorite TV series is back! Longmire's long awaited Season 4 is available TODAY on Netflix.
Hubby and I did a marathon viewing of the first 3 episodes last year when we finally got internet service that would stream Netflix. We were hooked on the series after the very first episode, only to find that it had been cancelled.  What the heck is wrong with the idiots at A & E? (This isn't the only series we love that they have cancelled..)


Anyways, Netflix to the rescue! They were smart enough to see the absolute obsessed cult following this show has and did some negotiating to order the 4th season. Whoo hoo, yay Netflix! So today is the day, we are finally getting to have another fix of one our favorite cowboy lawmen and his trusty sidekicks. We are re-watching the last episode of season 3 first to reacquaint ourselves with the happenings and then we're good to go. It's going to be a late night here. Pop that popcorn hubby.
I hope everyone enjoyed this Labor Day weekend. We had a busy Saturday and Sunday, but today was all about the relaxation.
Mr. MoonCat and I both belong to a fantasy football league. I've been a team owner since 2005 and this will be the hubby's third year. The league is mostly made up of some of my dearest friends from kindergarten to now! We've always stayed close and connected and look forward to our annual draft party on Labor Day weekend and the Super Bowl party in the winter. It's a fun and very competitive way to keep our lifelong relationships strong.
The party is usually a weekend long event with a "pre-party" on Friday night, a golf tournament on Saturday and the actual draft/party on Sunday. It is always an extremely fun weekend, but the older I get, the more tired I am come Monday.
I love these guys, but it's probably a good thing we DO only plan these things twice a year!
(That's Mr MoonCat 3rd from the left)
So today, I rested! I spent a large part of my day reading and catching up on my pile of "To Be Read" books. I'm still doing reviews over at
One Book Shy of a Full Shelf
as well as doing some sensible saving at
Centsable Couponing
. I'm busy, but it's stuff I love.
How was your weekend?
~~~~~
I'm sitting here tonight going over our monthly and annual budgets. We've been doing pretty good at saving some money wherever we can in our goal to move to Idaho next year. I've slashed our spending in most areas and am surprised at the savings in one – pet food.
That one area is our pet food expenses. By pets, I'm not including the poultry, horses or cattle. Strictly dogs and cats – 3 pooches and 7 purrers. We are feeding a higher priced feed to both cats and dogs and have actually been saving quite a bit of money. It all comes down to a better quality feed and the animals eating/needing less while being healthier.
Even though I am fairly well versed in animal nutrition, I used to be bad about watching sales and using coupons for my cat and dog food. Whatever seemed to be decent pet food for a decent price AND had coupons, I went for to save a buck. Unfortunately my critters paid for it with poor coats and up/down weight issues. So I went to the other extreme and bought really pricey, overly hyped feeds. I think probably more to assuage my guilt than anything else. This also didn't really benefit my animals or my pocketbook.
Flash forward to last winter when I went to work part-time for our new Tractor Supply. I chatted with a few of the nutritionists and feed reps to see what they were feeding their own animals. I found it very interesting that most of them were using the TSC brand "4 Health" pet food. It's priced pretty much in the middle of the scale and the ingredients seem to be very good. So I gradually switched my crews over to the appropriate formulas and I am thrilled!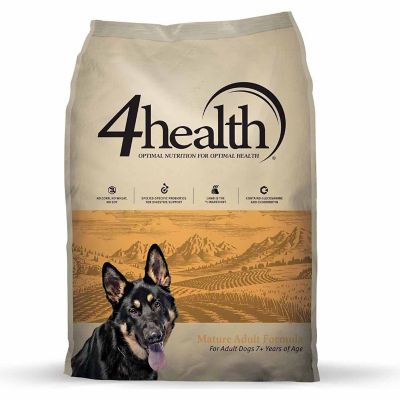 Both cats and dogs have all done very well with these feeds. Their coats are thick and glossy, they all maintain steady, healthy weights, fewer hairballs and a large bonus overall is less poop. That may seem funny or trivial to some, but when you have a 125 pound hound, you want smaller landmines and fewer of them. Since there are so many less fillers and more of the good nutrients, the animals utilize the feed better and need less to be happily full.
So I'm curious what kind of pet food do you feed your furballs? Anyone else use 4 Health?